General information

| | |
| --- | --- |
| Nickname | Sonia Dersion |
| Full name | Sonia Dersion |
| Genre | zouk, zouklove, rnb, Zouk-love-rnb, african |
| Official website | www.soniadersion.com |
August 06, 2019 - 385views
www.myspace.com/soniadersion
www.soniadersion.com
Sonia Dersion is a Antilles born singer/songwriter based at the moment in South East London.
Born in 1971, Sonia's first album, 'Tout va Bien" sold over 100,000 copies and won an award in September 2000 at the Tropical Music Awards with her single "Natirel"
Her second album, "Initiation" by Willy Salzedo was tinged with a opus of African music and rhythms inspired by Kaysha RnB
Sonia has since been in collaborations with, amongst others, Richard Burman, Tony Deloumeaux, Jean Michel Rotin, Tanya St. Val, Lynsha and Delphine 2. A Best Of Sonia Dersion was released in 2003 and Les 4 Seasons a year later in 2004.
Sonia has also participated in humanitarian projects such as the album "New World" for disadvantaged children.
In 2007 an EP entitled Cori De Crystal enabled Sonia to engage a wider audience and features a poignant song called Entre Deux. These tracks can be downloaded here.
Now writing her latest album called My Bouquet Of Roses, Sonia has slowed down the traditional Zouk rhythms to produce tracks of freedom and love. Loosening the grip of life's troubles with money and politics, feel the slow rhythmic beats of these new songs.
____________________________________________________________________
Sonia Dersion est une chanteuse/ auteur de chansons basées dans le Sud Est de Londres.
Née en 1971 dans l'ile Caraibe de la Martinique, le premier album de Sonia, 'Tout va bien' vendu à 80.000 exemplaires et a remporté un prix en Septembre 2000 au Tropical Music Awards avec son single "Natirel"
Son second album, "Initiation" de Willy Salzedo avait l'air d'un opus de la musique africaine et de rythmes inspirés par Kaysha RnB.
Sonia a depuis depuis collaboré avec entre autres, Richard Birman, Tony Deloumeaux, Jean Michel Rotin, Tanya St Val, Zouk Machine et Thierry Cham. Sonia a également participé à des projets humanitaires telles que l'album 'New World' pour les enfants défavorisés.
Top Tracks
| | | |
| --- | --- | --- |
| 1 | | Tes vacances avec moi |
| 2 | | Sonia Dersion - Jeux d'enfant |
| 3 | | Jeannot |
| 4 | | Coeur soleil |
| 5 | | Natirel |
| | | |
| --- | --- | --- |
| 6 | | Tou piti |
| 7 | | Kimbe |
| 8 | | Tu disais |
| 9 | | Urgence |
| 10 | | Kimbé |
Top Albums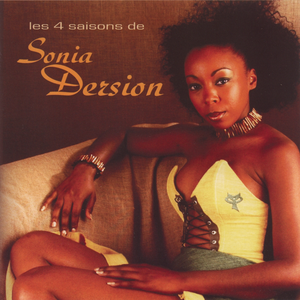 Les 4 saisons de Sonia Dersion
Hot Caribbean Miziks Vol.02
Comments(0)